The best information about your specific product can be found in the product's instruction pamphlet. The following are general care instructions obtained through customer feedback.
What kind of soap: Wash your mask with lukewarm water and CPAP soap (designed to clean silicon surface) that DOES NOT CONTAIN antibacterial, moisturizers, lotions or perfumes. During a cold, flu or pneumonia, washing regularly with diluted vinegar, helps to sanitize the mask.
Humidifier Water: Use only distilled water or reverse osmosis water. DO NOT USE TAP WATER.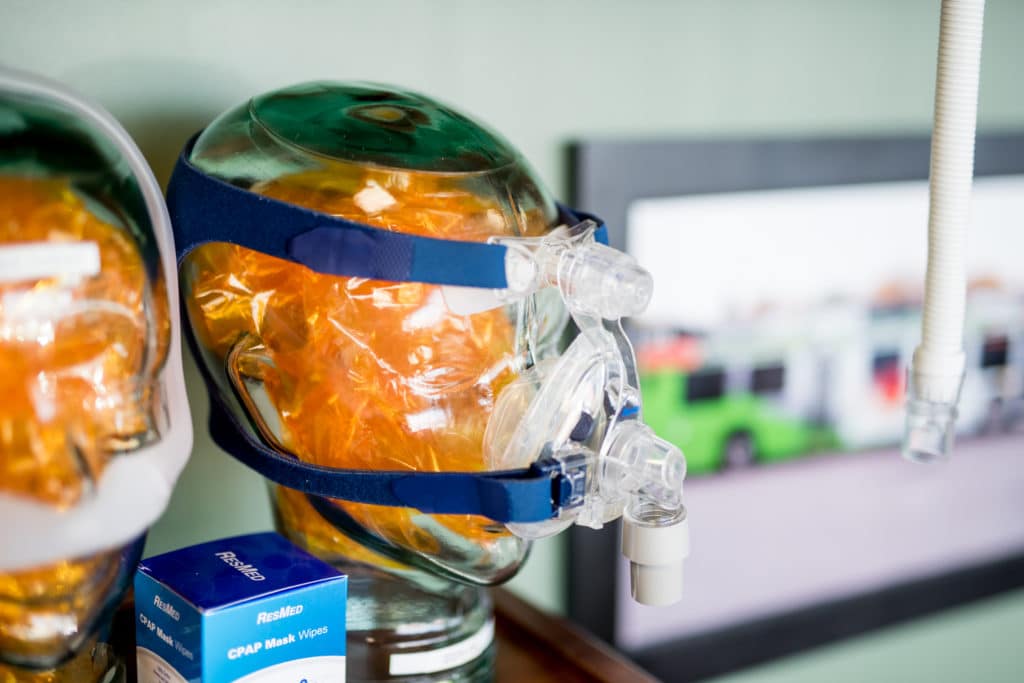 What not to use: Bleach/chlorine/alcohol/soaps containing antibacterial or moisturizers. These products will irritate the skin and reduce the life of your mask seal.
Use of mask wipes: Wipes are handy for everyday cleaning, but you still need to wash weekly with soap and water. They are handy for travelling, camping and some work environments, like truck driving or camp work. Use CPAP certified mask wipes (gently on hands and silicone surfaces)

Mask:
The cleanliness of your mask dictates how well it will function. A clean "tacky" mask works best.
Your mask will perform optimally if you wash it DAILY to remove oils left behind from your skin.
The mask must be washed at least weekly to maintain sanitation. It is best to take the mask apart on the weekly wash.
At 6-8 months your mask silicone has bacteria and fungus in it that cannot be washed out so even if your mask looks in good condition, it could be deteriorated enough to allow leaking, or cause skin irritation. This is an appropriate time to replace the silicone seal.

Headgear:
Wash by hand with CPAP soap and water. Hang to dry. Wash as often as you change bed linens.
Replace when the Velcro no longer holds or when the gear is stretched or too soiled for proper cleaning.

Tubing:
Wash the tubing weekly with soap and water. Replacement recommended annually.
CPAP tube brushes available for purchase to help make cleaning easier.

Filters:
Change the filter every 3 months (or more often as needed).

Humidifier:
Always empty the humidifier chamber and separate it from the CPAP unit before moving or
transporting the CPAP device.
Wash the water tub every week, do not forget to remove and wash the silicone flap in the lid of the humidifier.
If mineral deposits occur in the humidifier, diluted vinegar can help to clean the water chamber.